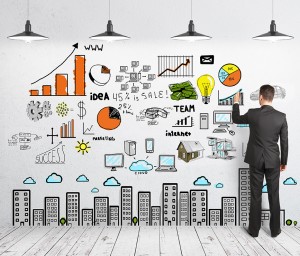 The Irish or Scots Gaelic languages could be unique selling points for your business. So says the provider of a new marketing course aimed at business owners or entrepreneurs who want to break into the expanding spheres of Scots Gaelic or Irish language cultural tourism and business.
The Marketing in a Multi-lingual World suite of courses – which includes a workshop – has been commissioned and designed by CeangalG, the EU funded project which is working to develop links between the Irish and Scottish Gaeltacht.
Course designer and tutor Fionbar Ó Baoill, CeangalG's training manager, said the courses will help participants develop robust plans to market more effectively their products and services in a world where knowledge of a language such as Irish or Scots Gaelic could give a provider the edge over a competitor.
In today's world, people are less concerned with acquiring stuff and more with finding meaning – so those in the Irish and Scots Gaelic medium sector have an inbuilt advantage which we intend they will be better able to exploit through active participation in this course," he said.

"Participants will learn the tools and techniques to design and upgrade their own strategy as it is rolled out," he said.

"Most importantly, attendees will be able to design a comprehensive marketing strategy specific to their individual business together with a set of goals to get them there."
These courses will be available to delivered locally within the region covered by the CeangalG project which extends from Donegal in the border counties of the Republic of Ireland to Northern Ireland to the Highlands and Islands of western Scotland.
The course is designed so it can be delivered at a local level – we will bring the training to you – because we appreciate that operators in small and medium sized enterprises haven't the time or budget to travel long distances for courses and other events. We are also investigating the possibility that these courses can be delivered via seminars to be delivered via the website."
Here is the schedule of courses already confirmed and in the process of being confirmed:
June 10, Cultúrlann McAdam Ó Fiaich, Belfast, 9.30 am – 2pm
June 13, Donegal Airport, 9.30 am – 2pm
June 17, Armagh. Time and location tbc.
June 20, Donegal. Time and location tbc.
June 24, Skye. Time and location tbc.
June 25, Fort William. Time and location tbc.
June 26, Oban. Time and location tbc.
July 1, Derry. Time and location tbc.
If you would like to host a course, get in touch with fionbar@ceangalg.net.