For the purpose of this report, we will refer to all those involved in this study trip as "the group". Moira Ní Ghallachóir – 'mng', Síle Nic Grianna 'mng' Síle Uí Ghallchóir agus Mary Rose Doherty – Comhar Chuman Forbartha na hOileáin.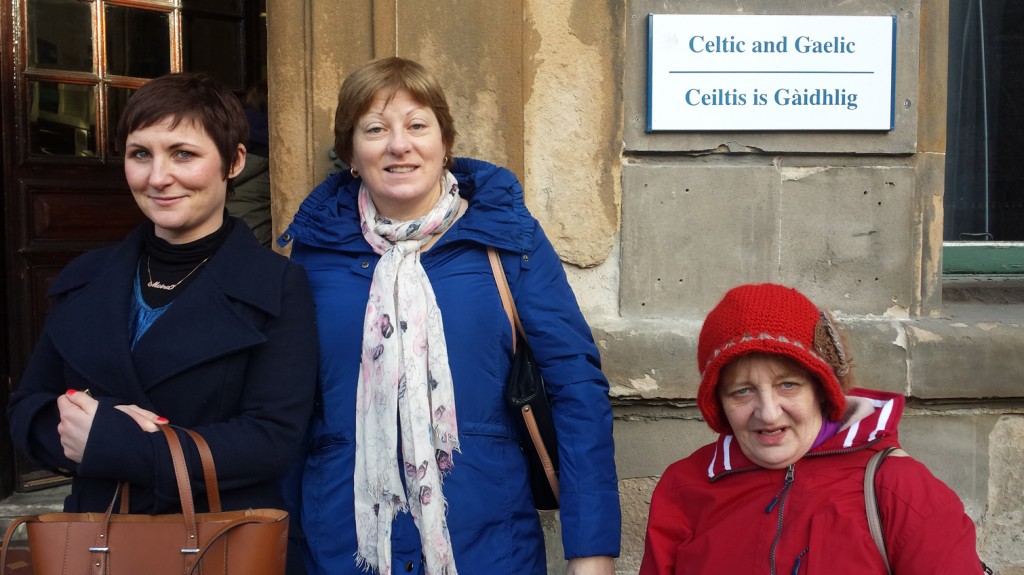 Ariel Killick – Independent state of happiness – Ariel gave us some very useful contacts and shared information about working with the language in Scotland. The group will be able to promote the work of ISOH, which is a great idea. It is unfortunate that Ariel is struggling, and finding it very difficult to progress with her business. Ariel was particularly inspired to learn of the model, success and plans of 'mng' with Rock agus Roam and our other products.
Coffee agus Craic – The group met with Sarah Boland, who is behind this social enterprise. She told us of the background and about the language possibilities in Scotland. 'mng' discussed the possibility of a joint event, Coffee agus Craic does Rock agus Roam. As result of this meeting, mng' will design an event specific to Coffee Agus Craic and suggest dates in 2016.
Conradh na gaelige – The group met with Evin who presented the work of Conradh na Gaelige in Glasgow. A deep discussion was had around the development of the language, what we can all do to contribute and the possibilities of language based tourism. We exchanged books, fliers, information and possibilities to work together in the future.
West Highland way – The group met with Gordon Forrester who has been an integral part of the development of the WHW. Gordon gave us an insight into how local communities were benefiting from an initiative like this, the history and how it has developed over the years. We learned about the potential for new local business along walking routes such as luggage carriers, dorm style accommodation, guides, refreshment stations and how more local events have been inspired. Gordon has agreed to send us reports on stats, psychological reports and other useful information and be on hand for any other support with any similar initiatives.
Due to Highlands and Islands meeting being cancelled, Síle and Mary departed early.
John Carmichael – 'mng' met with Local tour guide and language enthusiast Fort William – Meeting with John was extremely useful as he was able to explain what local tourism initiatives were working on and why. He also gave us an insight into private tours, who the main operators are, how much they spend, where they go. John was particularly interested in how we could work together with the Colmcille tour as he sees this as a major opportunity to connect in terms of history, heritage and language. We discussed the possibility of extending the mng's Colmcille tour to Scotland and how John could contribute to that in terms of his service as well as his network within mainland Scotland and the Scottish Isles. John has shared a lot of his network with mng and is very keen to strengthen links in Donegal.
Ness Range – Visitor Attraction – Took a tour around the range, spoke to the staff about how they were incorporating the language into the experience and the difficulties this involved. Also did a survey with the visitors around whether they would consider Donegal as a destination for adventure, and what other adventure activities appealed to them. Learned a lot about the visitor experience, for adventure, the use of language, signage implications and the type of tourist who enjoy adventure holidays. The possibility of a staff visit to Donegal, to take part in Rock agus Roam in 2016. They have annual event every year and are always looking for new places to visit.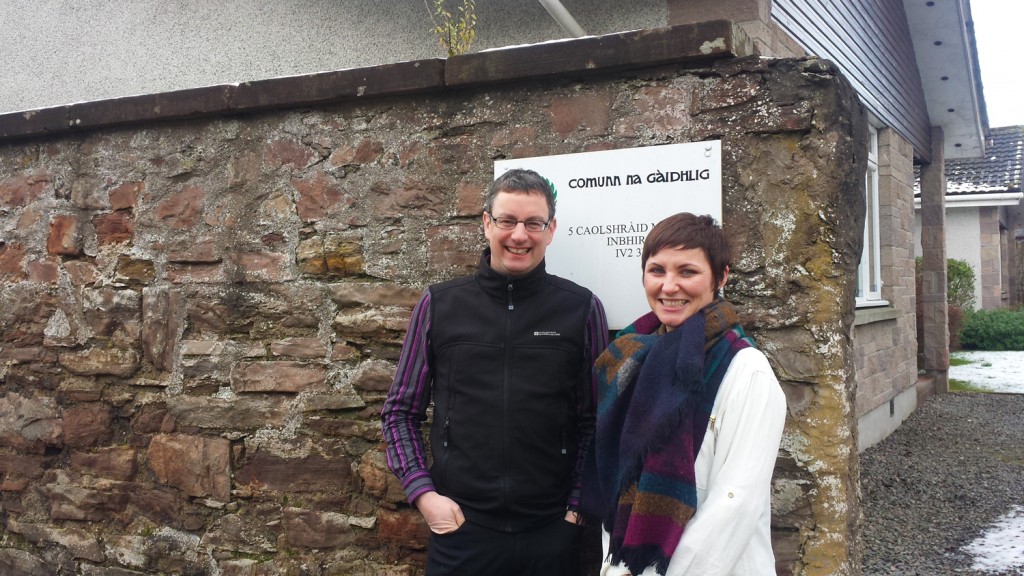 Donal Morris – Cuman na Gaelic – Inverness – 'mng' did a presentation to Donal on mng' s service and products. There was particular interest in Rock agus Roam as Cumann na gaelic are currently developing a course with adventure activities through Gaelic. Donal gave great insight into the agencies they were working with to develop outdoor recreational opportunities through gaelic. mng' got lots of interesting leads form this meeting and definitely see the potential for future joint work with Cumann na Gaelic and other bodies working in adventure tourism and language.
Maggie Smith – Carabarich. Bilingual tour guide and history enthusiast. mng' presented the Colmcille tour, and we discussed how a similar tour would work in Scotland. Maggie gave an insight into the lack of support for Gaelic language services and what they were doing to promote the language within the local communities with specific events, such a gaelic singing sessions, traditional music sessions, gaelic film nights and local tours of archaeological sites. Lot of potential joint working ideas were shared and discussed. Maggie has expressed interest in guiding a Scottish tour of Colmcille in conjuntion with mng.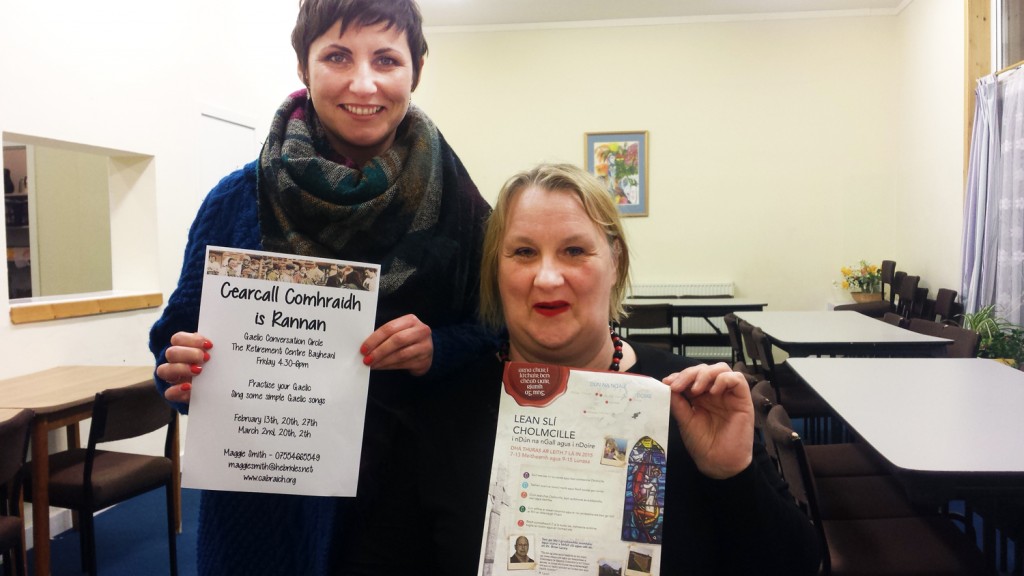 Ravenspoint resource centre – Met with Margaret the manager of the centre. This centre is uniquely placed next to significant archaeological sites relevant to Colmcille. This centre is a lifeline for the community, and is also a hub of history and heritage, the local community have so much to offer in terms of enhancing the local experience. mng' enjoyed a guided tour of the surrounding area and met with all the team. Colmcille tour was presented and the possibility of Ravenspoint becoming part of day trip on the Scottish side of the tour is now going to be developed over the coming months.
John Randall – Island Book Trust – We discussed how the book trust could benefit from linking with historical societies in Donegal and Derry. mng' also presented the Colmcille tour. The trust will support mng to promote the tour as it exists and build on the current itinerary to include Scotland in 2016.
Conclusion:
This was a great opportunity and all who took part gained more of an insight into tourism in Scotland. There are many opportunities for joint working and we would foresee future partnership with many of the agents we met with throughout this trip. We would like to thank Ceangal G for this.
We were overwhelmed in some cases by the investment in tourism Scotland, and feel they are very much ahead of Ireland, particularly West Donegal. It's a great example of what is possible, and there is a lot we can learn.
In the interest of working better in the future, I would like to raise some issues that would help with future events and participating delegates.
Members of the group felt, the trip would have been more beneficial if it had taken place in the peak season, so we could see the best of the areas we visited and in general experience more of the Scottish tourism industry. However it was amazing to experience the North of Scotland covered in snow and the little impact this had on services and transport. It is important to note that members of the group were in fact very apprehensive of traveling by car following heavy snowfalls and below minus temperatures.