Tuairisc ar thuras go Glaschú
On behalf of Forbairt Feirste, we submitted an application to CeangalG for a study visit to Scotland, to build links with Gaidhlig language activists and groups to promote common interests of collaboration in projects that further develop sustainable language communities. Our primary focus was meeting those involved in Social Enterprise and Gaidhlig medium youth projects.
In December 2014, Forbairt Feirste founded a social enterprise company, Camchuairt, which aims to function as a co-operative tourism company that provides bespoke cultural and heritage tours that both engage young people and create employment opportunities for Irish speakers.
We planned our trip with the support and advice of CeangalG Belfast manager, Concubhar Ó Liatháin who gave us contact details and networks to explore. Our trip was planned to last for two nights and three days, from Thursday morning, 29th until Saturday evening 31st January.
We made as much use of our grant support as possible and brought 6 activists on the study visit; Feargal Mac Ionnrachtaigh, Bronagh Fusco, Aodh Corcoran, Conchúr Ó Muadaigh, Orlaith Nic Siacais and Conchúr Mac Siacais. All of whom are members of the Camchuairt board, with a background in Irish Medium youth work.
Thursday 29 January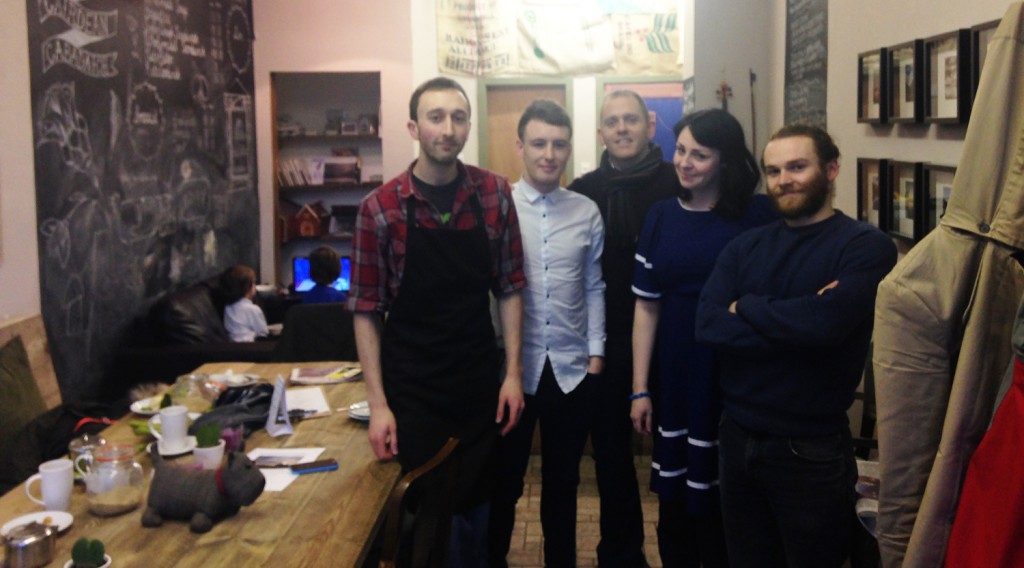 We flew out on Thursday afternoon at 12.30, 29 January and drove straight to our accommodation in the Argyle Hotel, which is situated in the Gaidhlig triangle of Partick in central Glaschú. We immediately walked around for a formal meeting with Sarah Bolland at 2pm, who has pioneered the Coffee and Craic Gaidhlig language enterprise. The meeting was productive and we agreed to host her in Belfast when she eventually makes it over to visit An Chultúrlann in the Gaeltacht Quarter.
In the evening, we went to the traditional music and Gaidhlig song night in Malone's in central Glasgow. We met there with Gaidhlig language activist Angus Mac Leod, who gave account of the Gaidhlig language, Bu chóir, pro-scottish independence campaign.
Friday 30 January
On Friday morning, we then went and met Evin Ó Dubhaigh at 11am, the development worker with Conradh na Gaeilge in Glaschú. He brought us on a cultural walking tour of Glaschú, which included a short visit to the offices of Bord na Gaidhlig and Cumann na Gaidhlig.
After lunch, we visited Scoil Ghaelic Ghlasgow to meet Alison Ní Dhorcaidhe Oifigeach Óige with Cumann na Gaidhlig and took part in her weekly Gaidhlig medium youth club Ceic is Cabadaich between 12.45 and 2pm, where the young people eat freshly made cake and practice speaking Gaidhlig in an informal and fun setting.
We then meet with Caitríona Cambueill, the vice principal in Scoil Ghaelic Ghlaschú who gave us a detailed guided tour of the Gaidhlig nursery, primary and secondary schools that are on the same site.
On Friday evening, we took part in the sessions in the Gaidhlig Triangle of the Snaffle Bit, the Park Bar and the Islay Inn and were introduced to numerous Gaidhlig language activists.
Saturday 31 January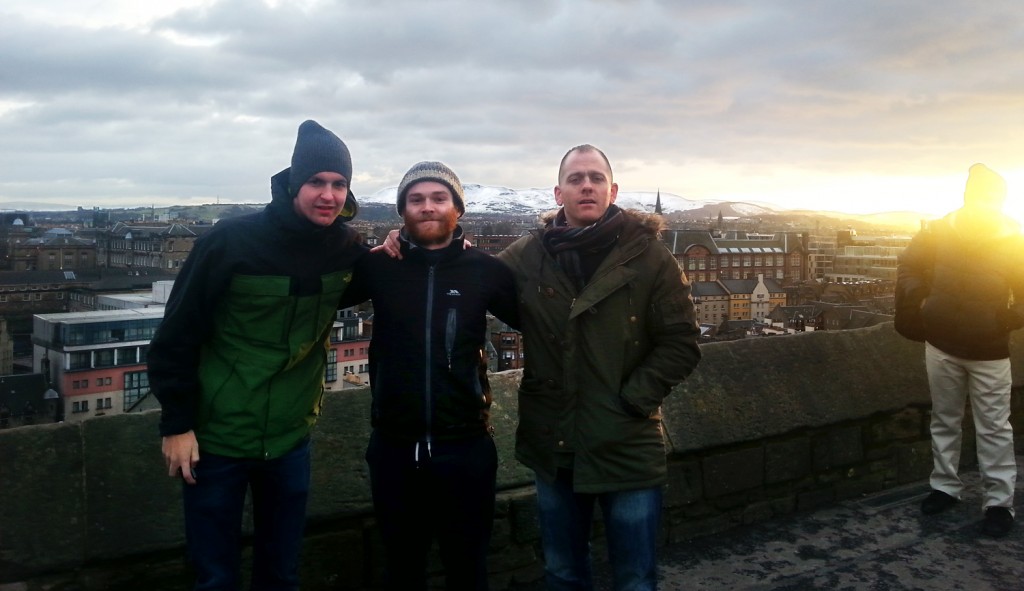 We checked out after breakfast in the Argyle Hotel and got the train from Glasgow station to Leith in Northern Edinburgh at 10am.
We went straight to the Out of the Blue Drill Hall in Leith which now functions as a community cultural centre.
Between 11.30 and 2pm, we took part in funding seminar that was hosted by Professor Paul Stewart of Strathclyde University, in partnership with representatives from Armagh city based Irish language group, Cairde Teo, including Gearóid Ó Macháil and Tommy McKearney. This focused on a joint application to the EU Europe for Citizens Programme under the Civil Society Project theme.
This seminar produced an application that went into the EU on 1st of March, focusing on creating a formal education network of trade union and cultural activists, established across 3 or 4 European states in order to share best practice, and creative ideas in the arenas of co-operative economic and cultural development models. It successful, this network will facilitate exchange visits between the partner countries involving trade unionist, community leaders, cultural activists, social enterprises, youth an sports organisation.
At 5pm, we caught the train back to Glasgow and got a taxi to the airport and home.
Since this visit, the Belfast-based Irish medium college we work closely with, Coláiste Feirste, has been on a further exchange visit to Scoil Ghaelic Ghlasgow, just last week. Alison Nic Dorchaidhe, from Cumann na Gaidhlig has also been in consistent contact with regards to a youth exchange that could facilitate further learning on behalf of Gaidhlig activists as to the innovative developments in Belfast in terms of Irish medium youth work.