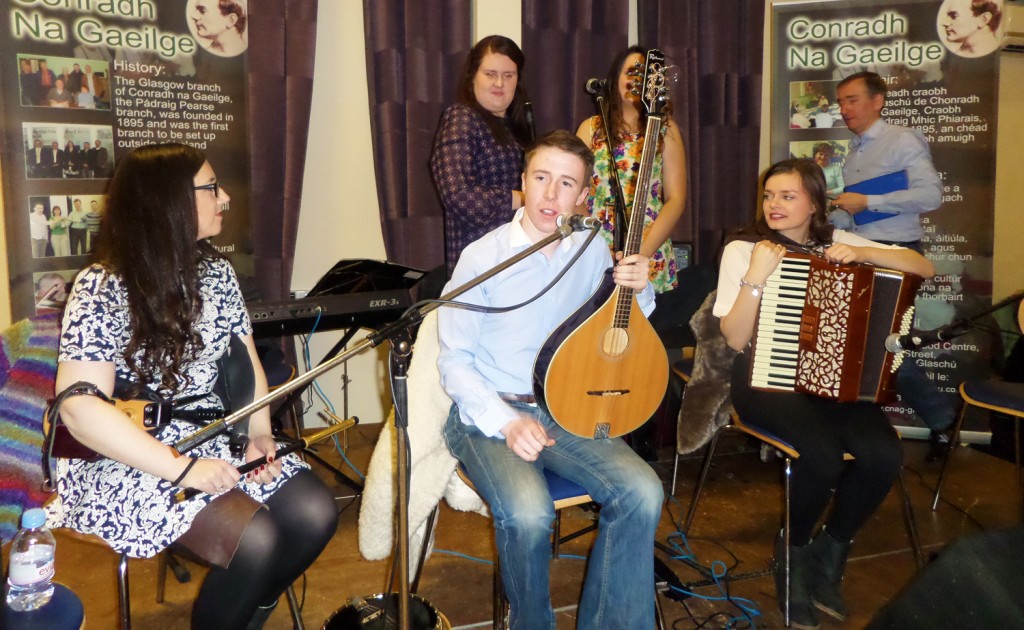 Trip to Glasgow by members of "An Crann Og" from GaothDobhair
Several members of the young "traditional" music group "An Crann Og" made a weekend trip to Glasgow between Friday 30th January and Sunday 1st February 2015.
The purpose of the trip was to meet up with members of the Irish community in Glasgow, as part of our musical group`s ongoing links with "Gaidhlig" speakers in Scotland.
These links have been built up over a number of years and follow on from "Cultural" exchanges to Co Donegal by "Gaighlig" speakers from Scotland ,and follow on visits to Glasgow , Edinburgh, and Fort William by "Gaeilge" speakers and members of our musical group "An Crann Og".
The group who travelled on the weekend consisted of musical group members, Mr Cathal O` Cuireann, Ms Eimhear Nic Comhaill, Ms Megan Nic Giolla Comhaill, Ms Sile Ni Ghallachoir, Ms Catriona Ni Ghribin. They were accompanied by their musical director Mr P.J O`Cuireann.
On Friday night the group travelled to "Shawlands" in Glasgow City and played music at a cultural event organised by a local Gaelic group.
On Saturday the group were in the "Glasgow Royal Concert Hall" as part of the "Celtic Connections" festival. There they listened to some of the many other young musicians who were playing during the "Celtic Connections" festival.
On Saturday night at the invitation of "Conradh na Gaeilge" Glasgow the group travelled to the "KingsPark" Irish centre to take part in the local traditional "St Bridget`s night" festivities. They met with Mr Evin Downey and Ms Margaret Ni Ghallachoir of Conradh na Gaeilge, as well as Mr Hudi O`Fearraigh and other local people who have strong connections with Co Donegal .This was a great night and "An Crann Og" took part in the making of "St Bridget" religious "Crosses". This was followed by tea and refreshments and then they were entertained by a local musical "Ceilidh" group. "An Crann Og" then took to the stage and played for those gathered, as well as danced in the "Ceilidh" afterwards.
Following on from their trip to Glasgow "An Crann Og" is now organizing a "mini" tour taking in the "Isle of Sky", "Oban","Fort William" and "Glasgow" in late September 2015. They are going to continue to improve their knowledge and understanding of "Gaidhlig" and will be meeting and playing music for amongst others students of the university of "Sabhal Mor Ostaig" on the Isle of Sky. This is a continuance of the strengthening of the bonds built up over generations between the two regions, through our native language of "Gaeilge" and Gaidhlig" and through our "Traditional" Irish and Scottish music.
"An Crann Og " would like to acknowledge and thank CeangalG for their help in organising and funding this cultural exchange to Glasgow. We hope to carry on developing our links with Scotland and to encourage our young musicians to continue these connections into the future.