The three directors of An Cosán Glas; Seamus Kennedy, Annjo Carr, and Deirdre Brennan availed of the opportunity given by the Ceangal G 'See Us! Exchange Visits' to visit cultural projects in Northern Ireland.
Friday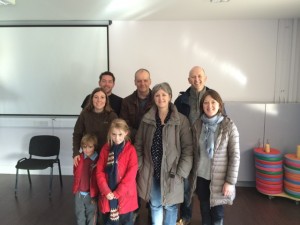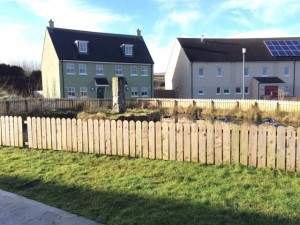 We visited An Carn, Maghera
On arrival we met Niall O Kane who explained all about the Carntogher Community Association. He showed us the impressive facilities comprising Conference Centre, Crafts Shop, Arts Centre, IT suite, concert / theatre venue and self catering accommodation. We were amazed at the strength of the Irish language in this community.
Following lunch provided by the community, Deirdre Brennan gave a presentation with slides illustrating the projects undertaken by An Cosán Glas down through the years.
We met Glenn White and Kelley Hann, wardens of the Drumnaph Community Nature Reserve who took us on a tour of the nature reserve and described the sculpture projects they had done there and their plans for the future. They also showed us the on-going development of barns and outbuildings on the Reserve. We found that we had a lot in common with their aspirations and would look forward to developing joint projects in the area in the future.
Sunday
Meetings for Saturday were postponed and re-scheduled for Sunday. We met with Éimear Ní Mhathúna and Aisling Ní Labhraí of Cultúrlann McAdam Ó Fiaich. They gave us a tour of the building and all its facilities including the café, Oifig Fáilte, Tourist info point, Gerard Dillon Gallery, Siobhán Mac Cionnaith Theatre, Art rooms and Classrooms and offices.
Our discussions centred on the Farset project, in which land adjoining the Farset river will be developed by An Cultúrlann and the Spectrum Centre, with a range of cultural and heritage proposals. This plan is primarily aimed at the involvement of local people but will aim to boost tourism in the area. The Cultúrlann were interested in An Cosán Glas, and its experience in developing large-scale sculpture exhibitions.
Overall, we were impressed by the strength of the Irish language, by the range of facilities and the success of their endeavors and projects. As well as giving us an opportunity to showcase our project, the See Us! Exchange Visit programme was enlightening for ourselves and we came away with fresh ideas for the future.