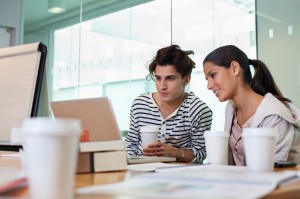 Fledgling businesses or aspiring entrepeneurs in the Gaelic medium sector in Scotland, Northern Ireland and the border counties of the Republic of Ireland will soon be able to avail of expert mentors to give them the necessary step up the ladder to success.
'A Step Up', a bank of business experts, is the latest offering from CeangalG, the EU funded project to develop closer business links between the Gaeltachtaí – Gaelic/Irish speaking communities – of Ireland and Scotland.
The CeangalG project is specifically aimed at media, cultural tourism or community based ventures and has as its aim to support these enterprises through offering training and marketing opportunities. Already online is a new website, which was recently launched by Republic of Ireland Gaeltacht Minister, Dinny McGinley, at a CeangalG conference in Donegal.
These mentors will be able to draw on their experience and expertise to give much needed advice to entrepeneurs or firms who want to get an extra competitive edge in an increasingly competitive marketplace," said Fionbar Ó Baoill, CeangalG Training Manager.

"Whether it's advice on how to pitch a new television show format to an international buyer or how to set up your website for effective ecommerce, the necessary expertise will be made available."
At CeangalG's recent 'Selling Our Story' conference in Donegal, Finbar Bradley, the internationally renowned authority on enterprise and co-author of the "Irish Edge", said that people were no longer looking for mere 'stuff' but rather a greater sense of meaning. Dr. Bradley said that firms working in the Irish or Scots Gaelic medium sector had a key advantage as they could offer meaning and a sense of authenticity which others could not match.
There's a world of opportunity there for businesses working in the Gaelic medium sector," said CeangalG's Marketing Manager, Concubhar Ó Liatháin. "Even though a firm might be based on a remote Scottish island or the Irish Gaeltacht, thanks to the internet and other technological advances, the global marketplace is just a click away and more and more what the Gaeltacht, be it in Scotland or in Ireland, has to offer, the market wants.

"The challenge is to make both sides – the seller or provider and the customer – realise this and that's why our emphasis is on training and marketing."
CeangalG is a EU funded project headed by Gaelic university, Sabhal Mòr Ostaig. Its main partners are Údarás na Gaeltachta and Belfast's Cultúrlann McAdam Ó Fiaich. Last year it secured funding totaling almost €1m from Interreg under the auspices of the Special European Programmes Body (SEUPB).
Advertisements have appeared recently in regional and national papers in Northern Ireland, Scotland and the Republic of Ireland to recruit the mentors and the tender document itself can be downloaded from the Public Contracts Scotland website.
The recruiting drive for firms and entrepreneurs looking for mentors is also underway. If you're working in the Gaelic medium tourism, media or community sectors and would like to avail of the services of a CeangalG mentor, just get in touch with Finbar Boyle, CeangalG's Training Manager, at fionbar@ceangalg.net.
Further Information: Concubhar Ó Liatháin, Marketing Manager, CeangalG, 07718477081 concubhar@ceangalg.net.